Back to all news
FRIDAY FLYER-Issue 112
Education, as you may have heard me say so many times, involves very much more than exam preparation. Education is about developing knowledge, confidence, self esteem, social awareness and wellbeing (both physical and mental) as well as core principles and values. In this way education offers us hope for a better future both on a personal level and as a global society.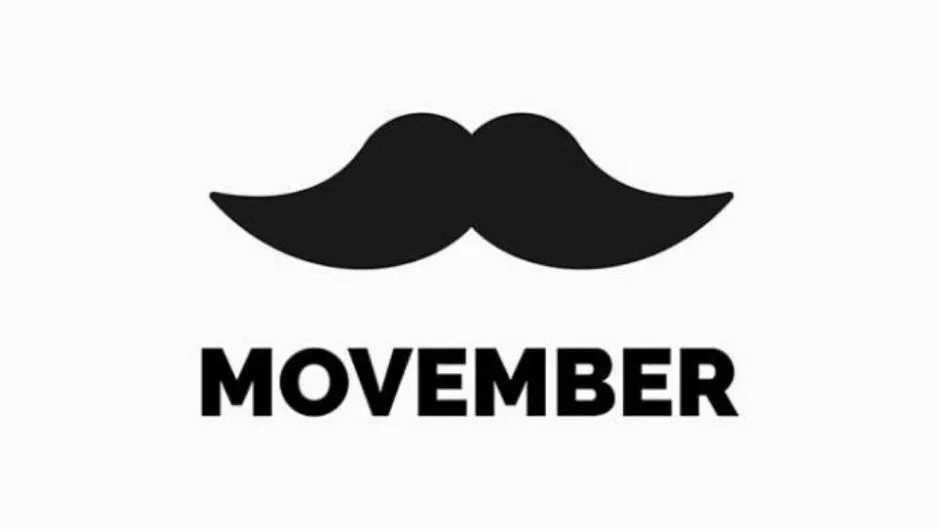 This week commenced with an assembly conceived and delivered by our Service/ Charities Prefects (Hinata and Tyler) and Wellbeing Prefects, (Bernice and Chris). They have been collaborating to raise awareness of mental health issues, particularly among men and boys who are least likely to discuss their emotions and admit their fragility. This month has seen them promote MOVEMBER (so if you wondered why there are so many moustaches on show at the moment this is why!). Hinata and Tyler presented on the importance of self checking to identify changes on the body and to encourage us all to see a doctor if we notice any changes in our bodies that concern us. Students and staff were invited to wear pink in support of breast cancer awareness on Monday. Bernice is also arranging a Christmas run to raise money for local charity working with those suffering with cancer but who do not have the funds to access support and treatment.

Our Prefect Team are extremely active to raise awareness of real world issues that link to their studies: the Medical Review Society invited Dr Diana Mohd Shar, the only certified organ transplant coordinator in Malaysia, who works as the coordinator and Deputy Head of the National Transplant Resource Centre located in Kuala Lumpur, to come and speak to us about organ donation and related issues. The event followed a fireside chat format and was hosted by Paul Ong and Benjamin An Yi Lim, ably assisted by Wafi Badrul Hisham. We learned that COVID patients can donate their organs to others suffering with COVID and the importance of discussing the intention to be a donor with family members. The event was extremely well attended and many students stayed behind to speak with Dr Diana after the event.

The Music Society – led by Bryan Choo – arranged the sound for the Organ Donation event (microphones and technical support) and this society represents another example of students taking the initiative to learn new skills. Music Society members are on hand weekly to assist with sound and lighting in assemblies and at events such as the Open Mic night and the upcoming Battle of the Bands.

We welcomed Mr Lim Beng Choon to speak with us as part of our Epsom Live series on 17 November and we were fascinated to learn more about the role of a consultant and the part he plays in the ECM Libra Foundation. This week we welcomed Dato Aru Suppiah to talk to us about his professional journey and gain insight into the world of entrepreneurship. We are so fortunate to be able to welcome such high profile captains of industry to Epsom and we thank them all for their time and commitment to our students.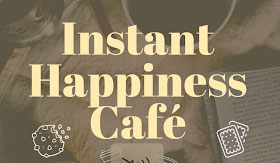 With entrepreneurship in mind, Epsom's Business and Economics Society, in addition to leading the Epsom Live talks, has established the Instant Happiness Cafe. This is a pop up cafe serving refreshments and snacks to students and staff in the Grayling Centre weekly on a Friday during break time. This is a great initiative that requires students to conduct market research, set costs, understand profit and loss as well as advertising and marketing. The vegan cookies they prepared were delicious!
 
We encourage our students to step outside of their comfort zone and to challenge themselves on a regular basis. The fear of public speaking is so common that it has been given a name: Glossophobia or speech anxiety. As part of our drive to develop confidence in our students, we organise regular debates, indeed it is one of the CCAs on offer next term. It was wonderful to see Key Stage 3 students on stage debating in front of their peers in Years 7-9. Some of the students competing arrived at Epsom with very little English and so it is all the more impressive that they are able to stand up and make their case fluently and with confidence in their second language. We were especially impressed with Kohaku Yoshida in Year 9 who spoke without notes and engaged his audience with humour and charisma!

The debate competition was organised, led and judged by our Sixth Form Academic Prefects whose impact through their leadership and commitment to our school community cannot be underestimated. They are fantastic ambassadors for our school and will, we do not doubt, go on to be changemakers.

So as you can see, Epsom continues to enjoy a busy, dynamic and enriching schedule. The energy, drive and enthusiasm of our students is a source of inspiration to us as staff and it is our great pleasure and privilege to see them grow as the term progresses.

I hope that you enjoy this week's Friday Flyer and wish you and your loved ones a great weekend.


Best wishes,
Mr Matthew Brown
Headmaster
Enrichment and a holistic approach is integral to the provision at Epsom. Despite the limitations imposed upon us by the COVID-19 pandemic, we, as the academic prefects, have successfully conducted a series of academic enrichment programmes for the Epsom School community.
The deadline for submission of the Epsom College Science Award (ECSA) 2021 documents was 21st November 2021 and we have received submissions from 48 groups of international participants from 14 different countries including Indonesia, Egypt, Tunisia, Zimbabwe and Morocco. We are delighted to have received 13 entries from our sister school, Epsom College UK. The pitching session will be held on 11th Dec 2021. We are looking forward to watching the participants demonstrating and sharing their ideas with fellow judges.
To develop confidence in public speaking and the ability to think on the spot under pressure, we introduced "Clash Of Minds." This represents an inter house debate competition taking place during key stage assemblies. By the time this Friday Flyer is published, we will have organised two rounds for the Key Stage 3 students and one round for the Key Stage 4/5 students. For the Key Stage 3 students, the debate mainly aims to encourage students to speak out and be confident.
Amelia (Crawfurd), Shamita (Crawfurd), Melvern (Carr) and Umair (Carr) were brave enough to be the first group to take the stage and make their case and respond to rebuttals.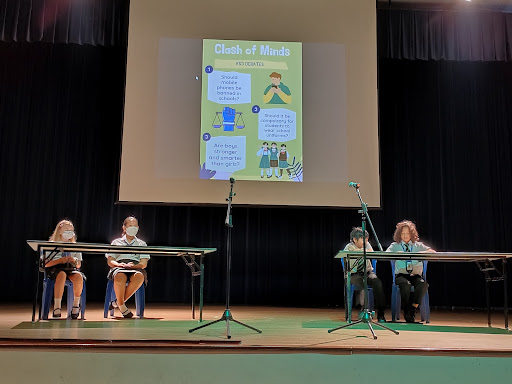 Rion (Carr), Kohaku (Carr), Angela (Crawfurd) and Yi Ro (Crawfurd) also did a good job on the topic "Should it be compulsory for students to wear school uniforms?".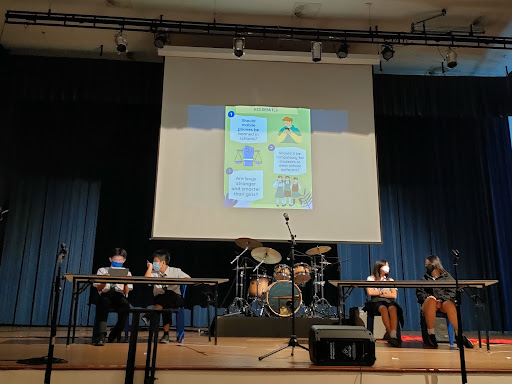 Their performance was really impressive and the students who are not participating in the debates show full support to those on the stage. We would like to show our appreciation to Kirsten, Naomi, Manfred and Yves for volunteering to mentor the juniors in the debates.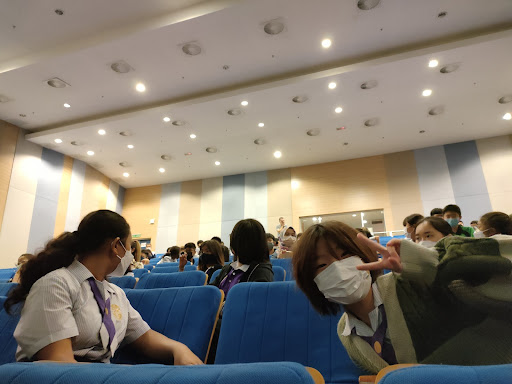 The next two weeks will see the final round of the Key Stage 3 debate (Carr A vs Crawfurd B) and there will be two more rounds for the Key Stage 4/5 debates. We can't wait to see the clash of minds among the debaters. Good luck and all the best!
Cadence & Paul
Academic Prefects
Our vibrant and established Drama department has been very industrious throughout this first term with a number of events and activities already in production.
With the easing of COVID restrictions we are looking to invite more and more parents to attend our performances.
Prep School Drama:
Sharks, elves, reindeers and Christmas trees have been flooding the theatre stage over the past few weeks as we prepare for our Christmas assembly. Excitement levels have been running high amongst the children as they see all their hard work coming together. It has been such a delight to see the children enjoying their different roles and developing their confidence on stage. The children are looking forward to performing their 'Under The Sea' Christmas and 'Rocking Around The Christmas Tree'. We look forward to showcasing their work on 29th November in both the College and Prep assemblies.
Senior School Drama:
Our Academic Drama students in Year 11 have been working very hard preparing for their Trinity examinations which will take place next term. This is due to the fact that they all entered the Cambridge IGCSE examinations as Year 10 students. This early entry has meant that we have been able to enter them for the Trinity London Drama Examinations at Grade 8 level which provides students with the opportunity to achieve UCAS points going forward. (UCAS points are considered by universities in the UK as part of students' applications).
Our Year 10s and 12s continue to work on their coursework as part of their two-year programme.
Extracurricularly, our students are rehearsing for the first on-stage production: CLUE: ON STAGE. Based on the iconic 1985 Paramount movie which was inspired by the classic Hasbro board game, Clue is a hilarious farce-meets-murder mystery. The tale begins at a remote mansion, where six mysterious guests assemble for an unusual dinner party where murder and blackmail are on the menu. When their host turns up dead, they all become suspects. Led by Wadsworth – the butler, Miss Scarlett, Professor Plum, Mrs. White, Mr. Green, Mrs. Peacock and Colonel Mustard race to find the killer as the body count stacks up. Clue is the comedy whodunit that will leave both cult-fans and newcomers in stitches as they try to figure out…WHO did it, WHERE, and with WHAT!
Tickets will go on sale next year and we look forward to seeing you support our students as they are working tirelessly to prepare to present this piece.
Mr Ian Schoeman
Head of Performing Arts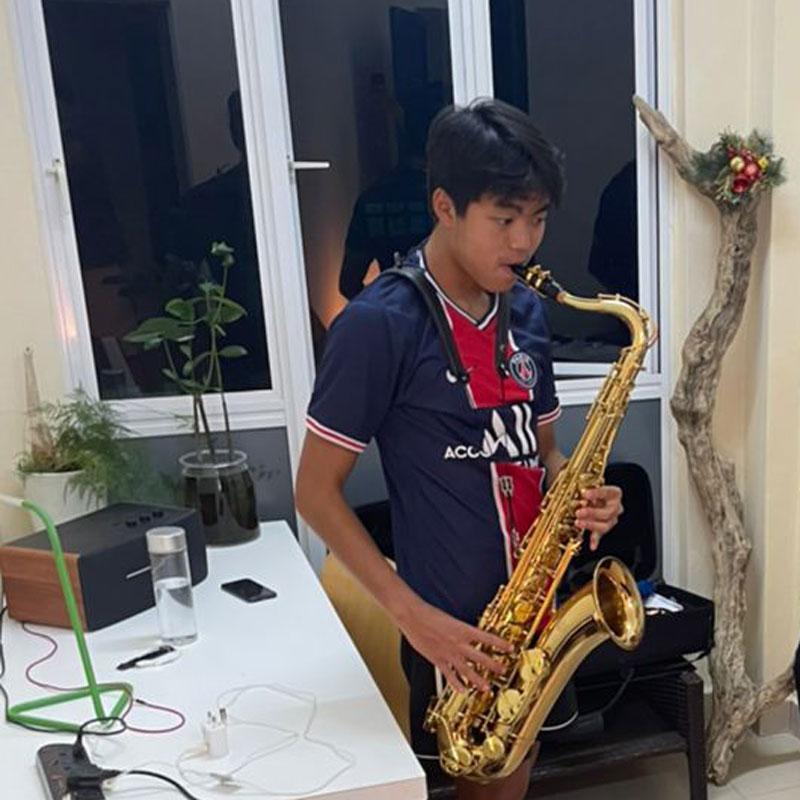 Rapidly approaching the end of our first term of the academic year, it seems appropriate that the wonderful experiences that the young men of Granville have enjoyed this term are culminating this week with what has been described to me a number of times as the event of the year: the House Band competition.
It is with great regret to us all that we are unable to open the competition to viewing by the families of our students.  After getting to know all Granvillians over the term, I have come to understand that an element of everything that they do is, in part, to make their families proud.  However, the safety of the pupils remains our top priority and in order to ensure that SoPs are followed in these Covid times, we are unable to open our theatre to all.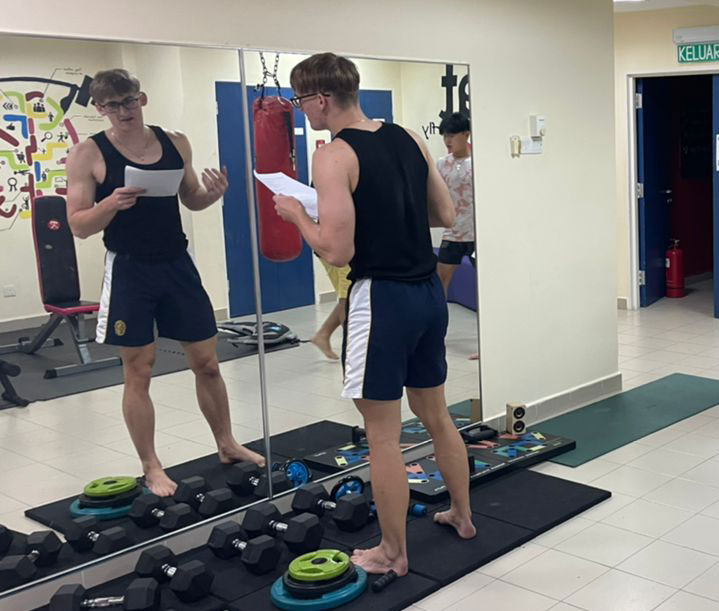 However, with the sounds of saxophones, pianos and any number of other instruments flowing through our corridors and some slightly off-time but enthusiastic voices ringing over the top, I am able to hear that our young men are giving this competition their all.  In turn, this event is further deepening their bonds of friendship and brotherhood and strengthening their resolve and ambition.  Whatever happens on Friday evening, our young men and all the other pupils of Epsom whether competing or supporting have already won.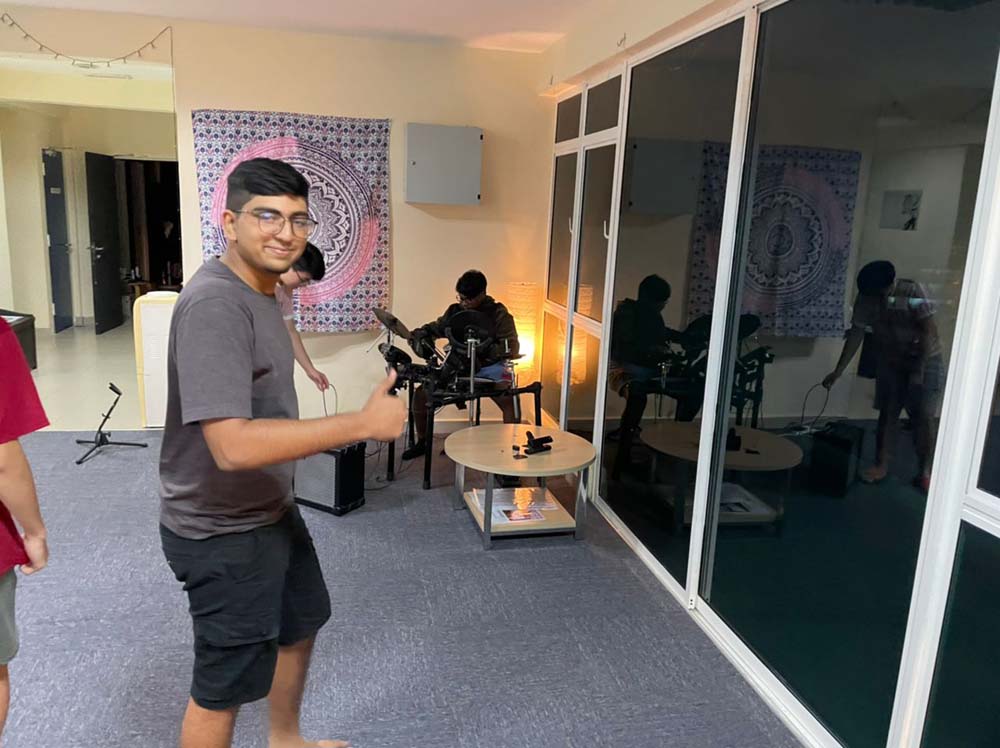 Mr Dean Jones
Granville Housemaster

The Humanities Faculty at Epsom incorporates Geography, History and Politics and we are most fortunate to enjoy a very high profile among our student body thanks, in no small part, to the hard work and dedication of our Sixth Form who engage with their studies beyond the curriculum and enjoy sharing this enthusiasm with their juniors, notably through the Humanities Society. I would personally like to take this opportunity to acknowledge and thank Naomi, Catalina, Manfred and Cazra in Year 13 for their efforts in running the hugely successful Humanities Society. Over the last year they have regularly organized a number of talks and presentations on a range of interesting Humanities based subjects that have been very well attended and appreciated by students and teachers throughout the school. We welcome the new team that have stepped up to take over and are excited to see what they will achieve!
We are all delighted to see that nearly all students are back at Epsom and working hard in the classroom in all their History, Politics and Geography lessons. There are many fascinating topics being explored by our pupils currently across all age ranges.
Last week at Epsom we held a Remembrance Day assembly to commemorate the events of the First World War and considered the reasons why the poppy is used as a symbol of respect. This assembly was very relevant to our Year 9 History students who have been studying many different aspects of WW1. Students were asked to produce a war trench diary from the perspective of a WW1 soldier. Some of these were produced to an amazing standard, full of detail and demonstrating understanding and empathy for those impacted upon by this terrible event. A special mention must go to Isabel, Ria and Shan Wei who produced fantastic pieces of written work.
In Year 7, History students have been studying the Romans and using primary evidence to examine and interpret the differences in everyday life compared with today.
In Year 8, History students are studying the main events of sixteenth and seventeenth century England and they are thoroughly enjoying finding out about the stories of Henry VIII and Guy Fawkes.
In Geography, Year 7 students have been developing their map skills and have been examining the weather. Meanwhile, our Year 8 Geographers have been undertaking research into a country of interest to them and have studied glaciation. Year 9 have been learning about coastal management.
Our Year 12 Politics students have followed another tumultuous year in British politics with interest and have been working really hard on the UK constitution and parliamentary scrutiny.
Year 12 and 13 Geography students have been working on their field work skills within the Epsom grounds as, unfortunately due to SOPs, school trips are still not permitted. Students have experimented with and utilised a range of geographical techniques and equipment to measure gradients on an onsite landslip. Our Year 13 Geographers are currently preparing their A-level coursework. This year, sadly, the project must be completed without the opportunity to research in the field as would have been the case pre COVID. Therefore if any parents or students could provide any details or information to support our students with their research into the following topics then we would be extremely grateful.
The topics are:
How has the sphere of influence of Kuala Lumpur's CBD been affected by out-of-town and Covid-spawned online shopping?
Is the urban regeneration of Singapore's urban waterfront successful today?
Evaluating the Success of Economic Regeneration in Melaka.
How transport links have regenerated Kuala Lumpur in recent decades?
To what extent is coastal management necessary in Port Dickson?
Please email any information to:
oliver.boyle@epsomschool.com or christopher.harvey@epsomschool.com .
To conclude, it has been a busy and productive term and we are grateful to our staff and pupils for their energy and enthusiasm – it is great to be reunited in the classroom!
James Dale
Head of Humanities
FundRaising Success at Epsom Prep School!
The Epsom Prep students were determined to raise as much money as possible for a charity called 'Spouts' that supports an orphanage in Kuala Lumpur and provides support for children with Autism.

They were challenged to design a T-Shirt promoting the charity and donated a RM10 fee to enter this competition.

In true Prep style, the children got on the job straight away, producing impressive and well thought out designs. Tia Siddle founder of 'Sprouts', (Tia is a former Student and previous Head of School) was so impressed with their dedication and commitment to help out and make a difference.

In total the Prep students raised RM 630! 36 students entered. Some children didn't enter but donated anyway because they wanted to do their bit.

The winner of the competition will be announced, following an Instagram vote on the top three designs. The Prep children are immensely proud of what they have achieved by working together and are delighted to be able to help those less fortunate than themselves. We believe that by taking action, we can be future change makers and have a positive impact on the local and global community.

Take a look at some of the impressive entries!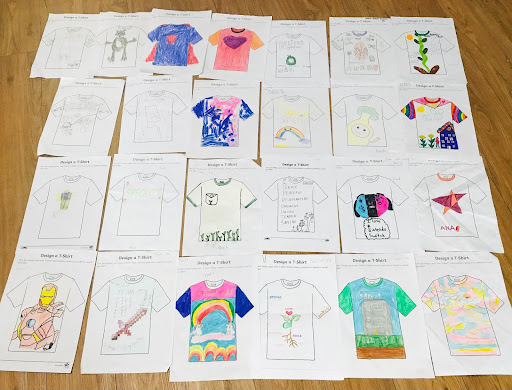 Mrs Alice Stokes
Head of Prep

Remembrance Day - 11th November
Remembrance Day is a very important event in Britain and other countries. It started after the First World War, a terrible conflict which raged across Europe and elsewhere. It has now become an event to remember all those who have lost their lives in war. At Epsom College Mr Ian Pye led a ceremony with students and staff, whilst members of Propert House wore poppies during that week.
During the whole school assembly on the following Monday, I spoke about the meaning of the ceremony. The poppy has become a symbol of the event and I told the story of the poem written by John Mc Crae, a medic with the Canadian army who wrote the poem during a break in his duties, describing his recent experience of loss, using the imagery of what he saw around him, including the distinctive red flower.
I ended the assembly by talking about why it is so important to remember those who have died in war. The independence and prosperity we enjoy have resulted from the sacrifices of ordinary people. It is also important not to forget the nature of war, so that we strive together to ensure peace between all countries.

Dr Simon Cooke
Assistant Head, History teacher
Inter House Sport Competition
The last few weeks have seen the resumption of some inter house activities, and last week students enjoyed participating in the inter house cross country race. In the girls' houses it was very close, with Rosebery beating Crawfurd by only 2 points. Well done to Haneesha and Aisha who placed first and second and to Jing Xean who placed third. In the boys houses Propert came first, closely followed by Granville and then Carr House. The first three places were nicely spread amongst all three boys' Houses, with Finley setting a blistering time of 13:04. Koutatsu came in second and Rion N. came in third. In the inter house badminton Propert won the Senior section and Carr B won the Junior sections for the boys. In the girls' section, it was a 2 all draw in the senior section and in the junior section Crawfurd A won.
We are delighted that some of our squash players have been able to participate in the NJC Squash tournament at the National Sports Center in Bukit Jalil. Jaydn Jhan Karpal Singh Deo placed 10th in his age group, Haneesha Veerakumar came 6th in her age group and Aidan Yunus came 9th in the under 19 age category. Congratulations to these great athletes and well done for representing our school with such gusto.
Mr Robert De Wet
Head of Physical Education / Games