Back to all news
FRIDAY FLYER-Issue 110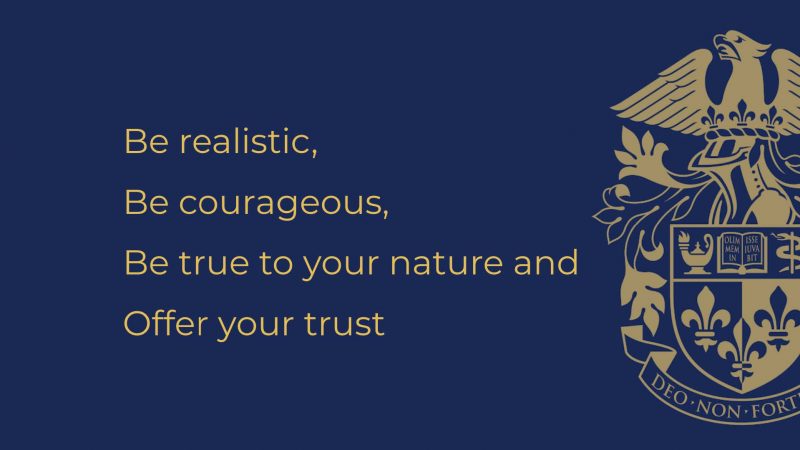 Our first days back after the Half Term break have been busy and exciting. In addition to welcoming back all of our Year groups into classrooms, the CCA programme is in full swing, our academic societies have been electing new Boards, we had a wonderful Sunset Serenade and we finish off with Halloween parties – just another 'normal' fortnight at Epsom – this is testament to our amazing staff and students. It is indeed a privilege to be working, living and learning in this very special and vibrant community.
In our first School Assembly of the Half Term we started with a big question?
(the assembly slides can be found HERE)
'What do we think about our fellow humans?'
I presented this scenario: Imagine an airplane makes an emergency landing and breaks into three parts. As the cabin fills with smoke, everyone inside realises: We've gotta get out of here.
We considered two possible outcomes on two different planets:
Planet A
Passengers check each other are ok. Those that need assistance are helped out of the plane first. Some people are willing to give their lives even for perfect strangers.

Planet B
Everyone is left to fend for themselves. There is panic, pushing and shoving. Children, the elderly and disabled get trampled.
And then, this question: Which planet do we live on?
What do you think?
This question has been asked many times in the research of Prof. Tom Postmes, University of Groningen, Netherlands. He finds that 97% of humans believe our fellow humans will behave in the same way as Planet B (Epsom School students had the same overwhelming answer).
And yet….
Universities have researched peoples' behaviour during emergencies: including the twin tower attacks in New York, plane hijackings, the Sewol Ferry capsizing in Korea, the London bombings, the airplane landing on the Hudson River, the recent floods in China and so many more.
And the truth is that in almost every case we find that we actually live on Planet A.
This leads us to reflect on why our view of our fellow humans is so wrong; how we can be biased towards negative experiences and let that bias affect our thoughts, beliefs and actions. The next step is to consider how these thoughts affect others. This can be described by the Pygmalion Effect and the Golem Effect – see my assembly slides HERE for a summary.
And finally, how should we respond?
The title of this article gives an answer and in our assembly I closed with the following: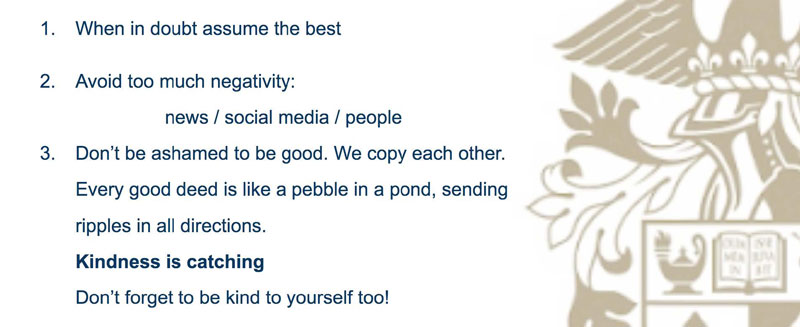 At Epsom we are working to 'Nurture, Educate and Inspire' every student. Most importantly we start with nurture – our care and protection of and for each other – which, as we can see, may not be as unusual as we might think.
And finally, thank you for taking the time to read our newsletter. I hope you enjoy the articles and I wish all our families celebrating the Festival of Lights a very Happy Diwali.
Best wishes,
Mr Matthew Brown
Headmaster
English as an Additional Language(EAL)

Read Theory is an online reading comprehension application which has been adopted by the English as an Additional Language (EAL) department as well as first language English department at Epsom. This resource enables a student to work at their current English proficiency level and, as their English comprehension improves, their reading texts and questions become more challenging. Thus, students are constantly being appropriately challenged.
After a student has finished a reading comprehension task their score is recorded as a percentage and this data is shared with their teacher. Teachers encourage students to complete reading comprehensions regularly and, of course, to the best of their ability.
Over the last two weeks, with the aim of encouraging students to read over half-term, students within the secondary EAL department have been set a Read Theory challenge to find out who is the Read Theory champion in each year group. To reflect different reading proficiencies within each year group, students were awarded 1 point for each time they scored 100% on a reading comprehension. By doing this, students working with higher or lower reading levels gain points for excellent work at their respective proficiency level. These champions also gain 5 academic merits for their House.
Congratulations to these Read Theory Champions!
Year 7: Masanao Yatomi (3 points)
Year 8: Hirotsugu Akama (3 points)
Year 9: Kohaku Yoshida; Furusawa Kazuma; Mayuha Honda (3 points)
Year 10: Neneka Nakamura (2 points)
Year 11: Lian Rahman; Seika Okadome (4 points)



Mr Rupert Whitty
Head of EAL
I was reading yesterday about avocados, the exotic-turned-essential once-beloved increasingly-benighted fruit of the chattering middle class. Specifically, the harm its mass cultivation is doing to local communities in countries like Indonesia. Top chefs are coming up with alternative guacamole recipes, using ingredients like broad beans, courgettes and the humble garden pea. Apparently restaurant-goers are finding them yummy and barely noticing the difference.
As someone who loves all the above, including avocado, I found the article mildly interesting and, for some reason now forgotten, mentioned it to Kirsten last night. Our Head of School could have been forgiven for making polite noises, and then her exit: it wasn't my finest ever opening gambit. Instead, she instantly started extolling the relative environmental and ethical merits of non-dairy milk: almond is, it seems, just as thirsty as avocado so, for her, a no-no.
This is one of the things I love about Rosebery girls. Tia combines the sciences with societal improvement in the form of Sprouts. Sora and Sutri rally the school à la Greta Thunberg. Cadence investigates Downs Syndrome and in so doing insists on the value of human life. In short, they care. Their sense of fun lacks cynicism, as they embrace all the opportunities Epsom offers to become citizens of a world in which they truly have a stake.
They also dream big. Today, no fewer than five of our Upper Sixth sit Oxbridge admissions tests for courses like medicine and mechanical engineering. Barack Obama wrote of the 'audacity of hope', an apt phrase for throwing one's hat in such a rarified ring and resonant of their belief in life's possibilities. May they enjoy the experience, for it is one they have earned.
One might imagine, then, that Rosebery has been rather solemn of late, what with all this crusading and cramming. I trust that the photos make a lie of any such notion. Before half term, we enjoyed an al fresco breakfast of roti cenai, courtesy of our irreplaceable, irrepressible matron, Carol Peters. At our picnic and talent show we were wholesome and hilarious; with pumpkins and pomegranates, quizzes and games we were autumnal, artistic and artful, just right for Hallowe'en. And the Sunset Serenade showcased electrifying talent with a whole lot of soul: Catherine Chin, Rosebery's resident tutor, spun gold at dusk.
Wonderfully, we are creative in other ways, too. Naomi wrote this poem in response to Grace Nichols' 'Island Man', at the start of our study of Andrea Levy's Small Island. The aim was to evoke dislocation and dispossession, shifting cultures that preclude a sense of belonging. Naomi is Upper Sixth with her sights set on Law at Cambridge; she could have made mincemeat of me for even mooting this apparently whimsical rewriting task. Instead, to her great credit, Naomi fell on this vanishingly-rare window to be playful and musical with language, weaving potency and poignancy into every image. Its deftness and nuance is what makes her chosen degree a perfect fit.
Monochrome Moons
Ah girl, be careful…
I touch the moss-covered cave
And limestone walls
Fingers covered
In white chalk
Ah ma's voice,
Soft and soothing
Calling out to me
Her eyes a crescent moon
"Hot water coming! Careful!"
I jump to the side
Wary of the warning cry
Heads turn and
Conversations stop
To let auntie hurry past
Carrying her bowls of
Comfort and warmth
Auntie —I do not know her name— her sweat dripping
dripping
and breath puffing puffing
But eyes waning
just like ah ma's do…
"Merde! He stole my money!"
I jump to the side
Wary of the running boy
But here
heads don't turn and life moves on.
I walk past the banlieues of St. Denis
Clutching my bag close to my chest
Ah Ma made it for me
And that boy might come back.
The familiar yet foreign shouts
In the heart of the city of
Love
My soles covered
In black cigarette soot
The grass is greener on the other side and
The foreign moon is brighter, rounder
But I still prefer
My little slivers of crescent moons.
Ms Kate Orpwood
Rosebery Housemistress
It was amazing and most gratifying to see the Science department brimming  with students once again! Our students are all eager to perform experiments that are too often completely inaccessible online and resume their practical learning now that they are back at school. It was especially gratifying to see the students working together and sharing their learning. As you know Science helps us to understand what is happening around us and that is why doing experiments represents  an excellent way to learn as we can test theories and observe outcomes in real time. These experiences provide a solid foundation on which students can build their knowledge. With hands-on work, our students explore theories and concepts which are sometimes difficult to understand from a verbal explanation, animation or video. Practical work represents a powerful learning tool.
In selecting CCA activities for our students, the Science Faculty decided to pick something that will stretch thinking and allow students to apply their knowledge to augment their understanding beyond the curriculum. We researched what was on offer by different national science councils, and agreed on the Crest Award, organised by the British Science Association.
The Crest Award is a recognised scheme for student-led project work which will enable active collaboration, providing opportunities to our students to think and behave like real scientists. A big advantage of this scheme is that the award is recognised by UCAS for university applications.
Students from Year 13 and Year 12 are working to obtain the Gold Award. These students are studying different sciences, so they will approach their topic from different perspectives.  Each one of them has to spend a minimum of 70 hours on their project.
As we face an uncertain future in a fast changing world, we believe that it is of vital importance that our students be more aware of, and more active in, environmental issues. We therefore floated the idea of being an Eco school to the students and were very encouraged by the response.
In just a few weeks, we have registered to be part of the ECO Schools Organization and we have our first Eco Committee. This is wholly led by students and will be the focus of CCA activities on Saturdays. We are confident that the students will find meaningful ways to engage us all in being more responsible for our environment.
Watch this space!
Mr. Aden, Mr. Spencer and Ms. Pinna
Science Faculty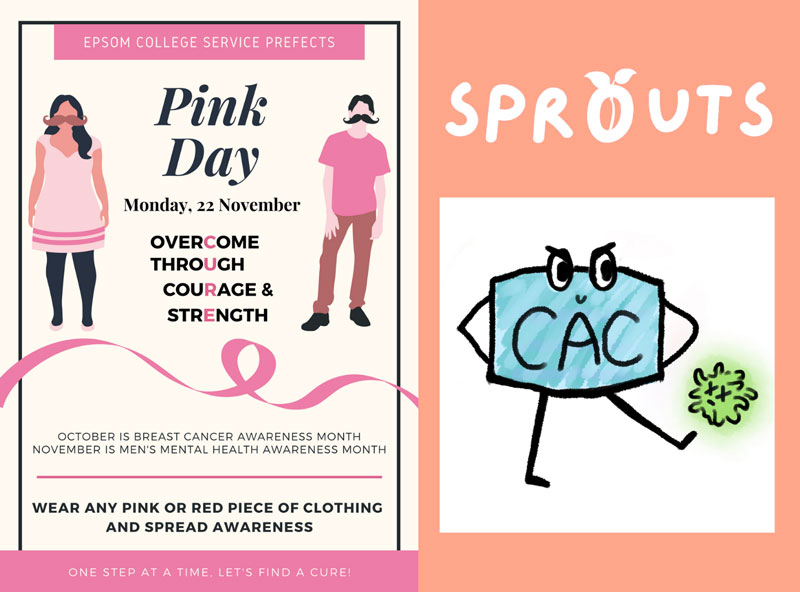 Since school started in September, students have been exposed to a variety of charity events. During this time, participation remains high despite challenges that led the Service Prefects to conduct events online. We have successfully carried out a diorama building competition hosted by the Ministry of Environment, a letter-writing initiative and donations to Colour Away Covid.

October was breast cancer awareness month, and November or 'Movember' is men's mental health awareness month. The Service Prefects have decided to celebrate Pink Day and Movember simultaneously. One day in November we will encourage students to wear pink in order to raise awareness for breast cancer and men's mental health. The Service Prefects will collaborate with the Well-being Prefects to ensure that the mufti day is a success, stressing the importance of mental health. Furthermore, staff and students alike are encouraged to grow out some lovely facial hair! If this is infeasible (specifically for females and younger students), drawing a moustache or attaching a fake moustache on a surgical mask is one way to show support for Movember. On the same day, we plan to hold a night time event where junior school students will get a chance to learn more and openly discuss mental health and anxiety. We are excited to see some luscious facial hair, and stylish pink clothes!

Students also received a survey concerning the Epsom College Store. The survey asks students to suggest items that they would like the school shop to sell. Stationary, mouth-guards and school clothes are all readily available. However, student recommendations will certainly improve the selection of items available. We are always looking for ways to improve as a school, and the well-being of our students is our top priority. That's all from the Service Prefects, take care of your mental health and always find someone who is willing to lend an ear or two if you feel you need some support!
The Return to Prep School
On Monday 25th October, Years 1-3 returned to physical school. It was fabulous to welcome these students back and they were particularly delighted with the new artificial lawn laid down in our Prep Garden. Take a look at their first playtime on the new lawn!
The children were very happy, indeed delighted, to play and learn together again.
On Monday 1st of November Years 4-6 joined them. It felt great to have the whole Prep School together again and what a week it was! On Wednesday 3rd of November we celebrated Halloween, which included the judging of the spooky porch competition for the 5 houses and a dress up competition, judged by the Senior Prefects. Take a look at a sample of our fabulous costumes!
On Friday 5th of November, we celebrated Diwali. We decorated Diva lamps and told the story of Rama and Sita in a special assembly.
There is a lot to celebrate at Epsom Prep!
Mrs Alice Stokes
Head of Prep School
Due to Covid-19, everyone has been stuck at home, limited to interacting with friends through a tiny virtual screen. Despite having held several online socials, evidently it wasn't enough to satisfy the desire for more socialisation.
Humans are social beings, thus as we begin to open up physical school to all year groups, Epsom has never been livelier – and without a doubt, everyone is eager to interact with their friends and teachers.
To make up for all the lost events over the past 2 years, we social prefects are bursting with ideas to celebrate the return to school and to enrich the learning environment for the students, starting with Halloween socials! The celebration was held over the course of 2 weeks for Key Stages 3-5, and provided the perfect opportunity for students to let loose and mingle with their friends.
We were overjoyed by the turn-out of the students, all dressed in their creative Halloween costumes! The laughter… The screams of pure happiness (or fear?!) resonated throughout the Grayling Centre and Sports Hall as we played games and watched a horror film. We're grateful for the enthusiasm of all the students during their first physical social of this academic year!
We look forward to organising more social events as we progress further into the year, all while following the SOP's to ensure the safety of everyone.

Raihana Remee and Yi Chen Lee
Social Prefects
We were delighted to be able to welcome parents and families to our first physical Sunset Serenade since COVID put a halt to this Epsom tradition. This special event was hosted last week Wednesday while observing our SOPs to ensure the safety of all participants. The evening showcased the immense talent of Epsom's GCSE music students under the direction of Ms Catherine Chin and various supporting music teachers.

The evening opened with an online performance from Ann Yi who is yet to join us at school. She set the tone for a wonderful evening of music from classical composers like Chopin, Brahms and Durand to more contemporary pieces.

We were treated to some extra special performances from two of our newest students to the school too! Molly and Kaith hail from Myanmar and had the audience enthralled with their pieces Waltz in B Minor by Chopin and Meditation from Thais by Jules Massenet; as well as a group performance of Canon in D with Eugene.

All our performers did really well and we pay particular homage to Issa who played the most phenomenal (and most challenging) piece of the evening's programme – that of Fantasie Impromptu by Chopin. Issa's ease in playing such a difficult piece is a testament to his sheer determination and hard work.

Unbeknown to the students, we also welcomed three members of the Malaysian Philharmonic Orchestra to enjoy the performance. They were blown away by the performances of our students and had only great things to say. To quote Mr Ahmad Muriz Che Rose – He couldn't believe he was watching performances from school students!

We are most fortunate and so very privileged to be working with such talented yet humble young people. We look forward to hosting many more musical events in the terms ahead.
Mr Ian Schoeman
Head of Performing Arts.