More information can be found in the Summer Camp Booklet – available in several languages.
Registration is accepted on a first-come, first-served basis subject to the availability of places. Priority will be accorded to registrations received with payment.
For further enquiries, please email to events@epsomschool.com
| | |
| --- | --- |
| Date | 30 July to 20 August 2023 |
| Age | 8-16 years old |
| Price | RM13,750 |
| Format | Fully Residential |
Who Is This Programme For?
Epsom's British Summer School Camp is designed for students between the ages of 8 to 16 who already have a good command of the English language but are looking to reach the next level in their English proficiency. Students wanting to explore Malaysia independently are welcome to participate in this programme as there will be many opportunities for this.
What's included?
Accommodation (single or sharing rooms equipped with dedicated study spaces)

Extracurriculars and sports activities

Cultural excursions to key attractions in Malaysia

24/7 pastoral care with support staff available

Triweekly laundry service (Mondays, Wednesdays, and Fridays)

3 delicious buffet meals and 3 snacks daily

Welcome pack

Certificates for participation
This intensive English programme is designed to help students of all ability levels, between the ages of 8 – 16, to improve their confidence and proficiency in the English language. A fully residential programme, Epsom's British Summer School blends dedicated English classroom sessions covering the fundamental speaking, listening, reading and writing skills and a full roster of music, sport, drama, social and cultural activities. Students will develop their English language skills in a dynamic and immersive learning environment, taught by expert native language teachers and gain confidence in practising their conversational English in everyday situations.
Epsom's British Summer School sets the foundation for long-term success – enrol your child and put them on the path towards English language fluency!
Why Join Epsom's British Summer School?
You will be exploring different forms of art, and you will have to be creative in this session.
This session will give students the opportunity to use the English language in Science, Technology, Engineering and Maths areas. Students are expected to present their work at the end of the session/get involved in a Q&A session.
Using songs and music as a medium for teaching English. Activities such as creating lyrics from popular songs will allow students to be creative and build confidence through songwriting/singing. Students will be given an opportunity to memorise a popular song and/or perform their own songs in small groups in class.
This session aims to develop students' interest in learning the target language through a variety of fun activities such as action songs, treasure hunts, role plays, crossword puzzles, show & tell and many more. It emphasises the joy of learning and indirectlyand allows pupils to explore how English is used in different ways.
To develop reading for pleasure, comprehension, vocabulary and fluency with a range of material suitable for language level. The sessions will take place initially in the classroom and then the library.
PERFORMANCE POETRY
This session will allow learners to engage with the language in terms of diction. By responding to poetry, learners will bring the poems to life and experiment with a variety of words verbally and in written form.
Either using pop music to improve language levels (comprehension, vocabulary, discussion, grammar points), or debating to construct an argument, persuade others, and defend your stance.
Students are introduced to basic moves and specific language, vocabulary,used in games such as Chess, Snakes and Ladders, and Ludo. For students who are interested in learning how to play Chess I can also teach them the basic moves.
Afternoon activities will be based on stories – role playing, Interactive storytelling, writing creative stories, making masks and puppets. Creating costumes of a fairy tale character using newspaper and recycled items for a fashion show.
Playing board games eg: monopoly, charades,hangman and learning through music and role play
A series of fun science experiments
A list of suggested topics for the role play:
Telephone Conversation Going to the Shop
Booking a Hotel
Sharing Opinions
Getting to Know New Friends
The lesson will be focused around teaching the kids the importance of having an active life and eating healthy. The time will be split into two parts where students learn the concepts of healthy eating and the second will be focused on home exercises and a classroom game of choice. This will take place in the classroom. Vocabulary and grammar will vary depending on the group.
Poetry – teaching the children about beat and rhythm within poetry and using the beat of a drum when reading poems out loud. This lesson will take place in the music room.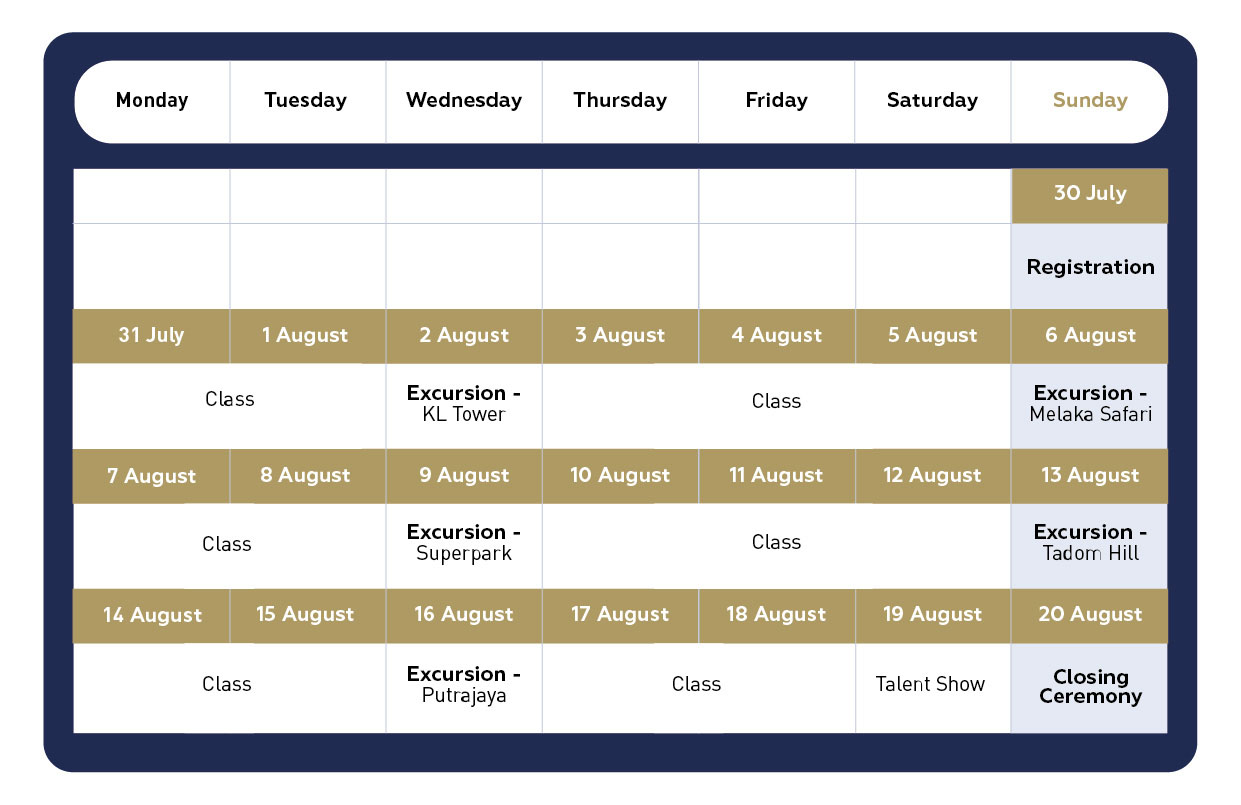 Accommodation

Students will be allocated a room in one of our six boarding houses. All rooms are fully furnished, air-conditioned, and have heated showers. At night, students can look forward to enjoy relaxing with a game of pool, foosball, board games, or even games on our PS4s that are readily available in all houses.
Dining

Three meals shall be provided alongside refreshments throughout the day. An all-day cafe and grab-and-go is also available outside of mealtimes. Participants will enjoy a wide selection of cuisines from all over the world.
Sports & Facilities

During the evenings, participants will have full use of the world-class athletic and leisure facilities across Epsom's 50-acre campus. Enjoy tennis, football, squash, badminton, swimming, or even a jog in the evening.
Pastoral Care & Supervision

Over the week, students will learn, live and play in a safe, secure environment. A team of experienced Epsom teachers and support staff (including full-time medical nurse) will be on ground at all times to provide the best possible care and supervision in-line with the best traditions of boarding at Epsom.